Container transportation is one of the most efficient methods of delivering of the goods by rail, air, sea and road. Containers are usually called «ISO» or «shipping containers» and have standardized dimensions. They are the most important multimodal consignments for today. For sure, it is feasible without containers, but using them helps to reduce time and material costs.
The «M3 Logistics» Company Group provides multiple services on containerized transportation. We've been working on the global logistics market since 1997 and guarantee professional services, safety of a cargo and reasonable prices.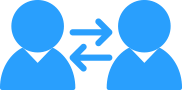 Advantages of Containerization
An ISO container is a standardized or specialized reusable container with strength suitable to withstand transportation, storage, and handling. It can be loaded/unloaded, stacked and transported over long distances. Besides, it can be transferred from one mode of transport to another without being opened. Thanks to the mechanized handling system, all handling is done with cranes and special trucks. Each container has a number and can be easily tracked via computerized systems.
The containers are widespread and relatively cheap. They are a reusable and an efficient way of transportation of various types of cargo. There are various types of ISO containers, but each of them is designed to be easily moved from one mode of transport to another without unloading and reloading. So, the advantages of container transportation are:
Fast delivery at a low cost, thanks to that the container is the unit that documents all the goods it contains. The information about them is detailed on the outside of it: it simplifies the customs formalities and helps to ship them quickly to their destination.
A container provides effective protection of the cargo and has low energy consumption. Being once sealed, it becomes a physical barrier against an atmospheric precipitation, a temperature difference, a theft, fire, a physical impact while handling.
A container is a versatile means of transport. It can be used to deliver a large store of goods to another continent. It is also good for sending small goods for a short distance. So, it is suitable for transporting hazardous materials, as well as solid products.
Using a container, you can be sure that it greatly reduces the risks of a loss, a theft, deterioration.
Registration of import and export

Certification and declaration of transported products

State control related to the transportation of various types of cargo across the border
Container Transportation Deadline and Rates
Delivery time is determined separately for each specific case, since it depends on:
Type of cargo
Distance
Modes of used transport
The need in a multimodal scheme.
As for the price, it's calculated individually as well, because it depends on:
Shipment specifications: dimensions and weights
Type of cargo
Pickup and delivery
Special requirements.
150+
Containers
Transport Monthly
1
Day for
Customs Documents
Why choose us?
Our pricing policy is loyal to customers. We use efficient logistics solutions and create optimal conditions for the development of our customers' business. We provide service package and become your DDP-agent. Our clients can count on the best value for money and prompt, efficient solutions of their tasks, informational and legal support 24 hours per day, 7 days per week.
Call us and find out more information: +7 (495) 255-00-33.